Crowdsourcing Performance Evaluations of User Interfaces
Can computer users be trusted to paricipate in user interface studies from the comfort of their home? Can user interface researchers give up control over their subjects' environment? In this project we study whether we can use Amazon Mechanical Turk to conduct user interface studies reliably. To do so, we replicated three previously known performance experiments, the "Bubble Cursor," the "Split Menus," and the "Split Interface," both in our lab and on Mechanical Turk. We compared the lab with the online population in terms of performance metrics such as speed, accuracy, and consistency. The results, which we share in our upcoming CHI paper, show that the Mechanical Turk participants perform just as well as the lab participants.
[Related paper]
Predicting Users' First Impressions of Website Aesthetics
Users make lasting judgments about a website's appeal within a split second of seeing it for the first time. This first impression is influential enough to later affect their opinion of a site's usability and trustworthiness. In this project, we aim to automatically adapt website aesthetics to users' various preferences in order to improve this first impression. As a first step, we are working on predicting what people find appealing, and how this is influenced by their demographic backgrounds. Although it is not yet known what exactly influences this first impression of appeal, colorfulness and visual complexity have been repeatedly found to be the most noticeable design characteristics at first sight. We have therefore developed perceptual models of perceived visual complexity and colorfulness, which we then used to predict users' perception of appeal. Our approach is based on the assumption that this first impression can be adequately captured with the help of a low-level image analysis of static website screenshots. In our upcoming CHI paper, we show that these models can account for approximately half of the variance in the observed ratings of aesthetic appeal. With that, we demonstrated that it is possible to quantify users' initial impression of appeal based on the models of perceived visual complexity and colorfulness. Our results pave the way for larger endeavors to improve the user experience on the web, because the first impression counts.
[Related paper]
SPRWeb: Preserving Subjective Responses to Website Colour Schemes through Automatic Recolouring
Colors are an important part of user experiences on the Web. Color schemes influence the aesthetics, first impressions and long-term engagement with websites. However, five percent of people perceive a subset of all colors because they have color vision deficiency (CVD), resulting in an unequal and less-rich user experience on the Web. Traditionally, people with CVD have been supported by recoloring tools that improve color differentiability, but do not consider the subjective properties of color schemes while recoloring. To address this, we developed SPRWeb, a tool that recolors websites to preserve subjective responses and improve color differentiability, thus enabling users with CVD to have similar online experiences. SPRWeb is the first tool to automatically preserve the subjective and perceptual properties of website color schemes thereby equalizing the color-based web experience for people with CVD.
[Related paper]
Cultural Differences in Time Perception and Group Decision-Making
When discussing the effect of technology on culture, people often assume that the world is slowly homogenizing into a culture of Internet users, who share similar values and behavioral norms. Our analysis of the online scheduling behavior on Doodle argues against this hypothesis. In fact, event scheduling is not simply a matter of finding a mutually agreeable time, but a process that is shaped by social norms and values. And this can highly vary between countries. To investigate the influence of national culture on people's scheduling behavior we analyzed more than 1.5 million Doodle date/time polls from 211 countries. Our findings include that people around the world steer their availabilities towards those options that have good chances to reach consensus. But people from more group-oriented collectivist countries (e.g., India, China) seem to make a larger effort to reach mutual agreement than individualists (e.g., the US). We believe that increasing the awareness of such differences can help improve intercultural scheduling and support the acceptance of cultural differences as an interesting contribution to our lives.
[Related paper] [Data]
Lab in the Wild
Most of what we know about human-computer interaction today is based on studies conducted with Western participants, usually with American undergrads. This is despite many findings that our cultural background affects our perception and preferences. Neuroscience research has even shown that cultural exposure leads to differences in neural activity -- a finding that might affect how we interact with computers. If people around the world perceive, process, and interact with information differently, then what should their user interfaces look like in order to be most intuitive for them to use?
With Lab in the Wild we are trying to shed light on this question. Our goal is to improve the user experience and performance for computer users around the world. But Lab in the Wild doesn't just help us answer our questions. It also provides participants with personalized feedback, which lets them compare themselves and their performance to people of other countries. Try it out :)

Accurate Measurements of Pointing Performance from In Situ Observations
We present a method for obtaining lab-quality measurements of pointing performance from unobtrusive observations of natural in situ interactions. Specifically, we have developed a set of user-independent classifiers for discriminating between deliberate, targeted mouse pointer movements and those movements that were affected by any extraneous factors. Our results show that, on four distinct metrics, the data collected in-situ and filtered with our classifiers closely matches the results obtained from the formal experiment.
[Related paper] [Source Code and Data]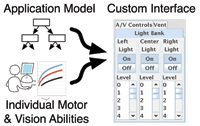 Most of today's GUIs are designed for the typical, able-bodied user. People with unusual abilities (due to a disability, a temporary injury, or who are just trying to operate a small device with cold fingers) have to adapt themselves to the user interfaces, perhaps using assistive technologies. We are working to reverse this situation: we believe that user interfaces should be adapted to the invidual abilities, devices, and preferences of the people who use them.
Several invidual projects in our group contribute to this vision. Our work on the SUPPLE system, for example, demonstrated that we can automatically generate user interfaces adapted to a person's individual motor and vision abilities. The results of our studies showed that people with motor impairments were significantly faster and strongly preferred such automatically generated ability-based interfaces to the defaults provided by the software manufacturers. learn more >>
PETALS Project -- A Visual Decision Support Tool For Landmine Detection
Landmines remain in conflict areas for decades after the end of hostilities. Their suspected presence renders vast tracts of land unusable for development and agriculture causing significant psychological and economical damage. Landmine removal is a slow and dangerous process. Compounding the difficulty, modern landmines use minimal amounts of metallic content making them very hard to detect and to distinguish from other metallic debris (such as bullet shells, wires, etc.) frequently present in post-combat areas. Recent research has demonstrated that the accuracy of landmine detection can be improved if deminers try to mentally represent the shape of the area where the metal detector's response gets triggered. Despite similar amounts of metallic content, mines and clutter results in areas of different shapes. Building on these findings, we have created a visual decision support tool that presents the deminer with an explicit visualization of the shapes of these response areas. The results of our study demonstrate that this tool significantly improves novice deminers' detection rates and it improves the localization accuracy.
[Related paper]
Incorporating Rich User Feedback Into Interactive Machine Learning Applications
Successful interactive machine learning systems need to generalize robustly from a very small number of examples. This poses challenges for most machine learning algorithms, which typically only solicit labels from the users while ignoring any additional rationale users might be willing to provide to explain their choices. Several projects have shown that incorporating richer feedback---that captures some of the user's rationale---leads to faster and more generalizable learning. So far, this feedback has been limited to feature relevance. Is this the best or the only type of rich feedback we can elicit from users?
The results of our preliminary study show that people naturally provide several other types of feedback to explain their decisions and that those other types of feedback have an even stronger positive impact on the predictive accuracy of machine learning algorithms than feature relevance. In this project, we study what types of explanations people can most easily provide, how to incorporate this additional information into machine learning algorithms, and how to design novel recognition-driven interactions that will help users provide such explanations with the minimum amount of additional cognitive overhead. The results of this project will impact both the algorithms and the interaction design for interactive machine learning systems.
Exploring The Design Space Of Adaptive User Interfaces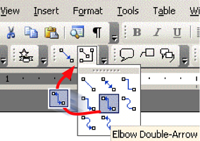 For decades, researchers have presented different adaptive user interfaces and discussed the pros and cons of adaptation on task performance and satisfaction. Little research, however, has been directed at isolating and understanding those aspects of adaptive interfaces which make some of them successful and others not. We have conducted several laboratory studies to systematically isolate some of the design and contextual factors that affect the impact of adaptation on users' performance and satisfaction. The results of these studies combined with the recent work of others, provide an initial characterization of the design space of adaptive graphical user interfaces.
Our current work in this space is aimed at long-term in situ evaluations of adaptive interfaces.
[Related papers]