Organic Peer Assessment
We are developing tools and techniques for organic peer assessment, an approach where assessment occurs as a side effect of students performing activities, which they find intrinsically motivating. Our preliminary results, obtained in the context of a flipped classroom, show that the quality of the summative assessment produced by the peers matched that of experts, and we encountered strong evidence that our peer assessment implementation had positive effects on achievement.
Learnersourcing: Leveraging Crowds of Learners to Improve the Experience of Learning from Videos
Rich knowledge about the content of educational videos can be used to enable more effective and more enjoyable learning experiences. We are developing tools that leverage crowds of learners to collect rich meta data about educational videos as a byproduct of the learners' natural interactions with the videos. We are also developing tools and techniques that use these meta data to improve the learning experience for others.
Read more on the project page >>
Predicting Users' First Impressions of Website Aesthetics
Users make lasting judgments about a website's appeal within a split second of seeing it for the first time. This first impression is influential enough to later affect their opinion of a site's usability and trustworthiness. In this project, we aim to automatically adapt website aesthetics to users' various preferences in order to improve this first impression. As a first step, we are working on predicting what people find appealing, and how this is influenced by their demographic backgrounds.

Curio: a platform for crowdsourcing research tasks in sciences and humanities
Curio is intended to be a platform for crowdsourcing research tasks in sciences and humanities. The platform is designed to allow researchers to create and launch a new crowdsourcing project within minutes, monitor and control aspects of the crowdsourcing process with minimal effort. With Curio, we are exploring a brand new model of citizen science that significantly lowers the barrier of entry for scientists, developing new interfaces and algorithms for supporting mixed-expertise crowdsourcing, and investigating a variety of human computation questions related to task decomposition, incentive design and quality control.
We expect to launch Curio soon. Sign up if you want to be notified when it comes on line.
Lab in the Wild
Most of what we know about human-computer interaction today is based on studies conducted with Western participants, usually with American undergrads. This is despite many findings that our cultural background affects our perception and preferences. Neuroscience research has even shown that cultural exposure leads to differences in neural activity -- a finding that might affect how we interact with computers. If people around the world perceive, process, and interact with information differently, then what should their user interfaces look like in order to be most intuitive for them to use?
With Lab in the Wild we are trying to shed light on this question. Our goal is to improve the user experience and performance for computer users around the world. But Lab in the Wild doesn't just help us answer our questions. It also provides participants with personalized feedback, which lets them compare themselves and their performance to people of other countries. Try it out :)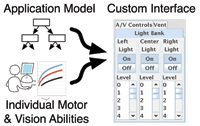 Most of today's GUIs are designed for the typical, able-bodied user. People with unusual abilities (due to a disability, a temporary injury, or who are just trying to operate a small device with cold fingers) have to adapt themselves to the user interfaces, perhaps using assistive technologies. We are working to reverse this situation: we believe that user interfaces should be adapted to the invidual abilities, devices, and preferences of the people who use them.
Several invidual projects in our group contribute to this vision. Our work on the SUPPLE system, for example, demonstrated that we can automatically generate user interfaces adapted to a person's individual motor and vision abilities. The results of our studies showed that people with motor impairments were significantly faster and strongly preferred such automatically generated ability-based interfaces to the defaults provided by the software manufacturers.
Papers, video, and other resources are available on the project web site.
PETALS Project -- A Visual Decision Support Tool For Landmine Detection
Landmines remain in conflict areas for decades after the end of hostilities. Their suspected presence renders vast tracts of land unusable for development and agriculture causing significant psychological and economical damage. Landmine removal is a slow and dangerous process. Compounding the difficulty, modern landmines use minimal amounts of metallic content making them very hard to detect and to distinguish from other metallic debris (such as bullet shells, wires, etc.) frequently present in post-combat areas. Recent research has demonstrated that the accuracy of landmine detection can be improved if deminers try to mentally represent the shape of the area where the metal detector's response gets triggered. Despite similar amounts of metallic content, mines and clutter results in areas of different shapes. Building on these findings, we have created a visual decision support tool that presents the deminer with an explicit visualization of the shapes of these response areas. The results of our study demonstrate that this tool significantly improves novice deminers' detection rates and it improves the localization accuracy.