Supporting Effective Collective Ideation at Scale
Various online platforms for different domains--ranging from social development to product design--have emerged as a space where people can share their ideas and get inspired by ideas from other people all over the world. The mix of perspectives and expertise among the participants allows creative solutions to emerge in a way unimaginable in the lone-innovator or small-group settings.
We are developing an online platform that helps people discover and generate inspiring ideas together on a large scale. In recent work, we developed a crowd- and machine learning-based technique to generate a computational representation of the solution space, called an idea map, that encodes semantic relationships between ideas. The results of a subsequent study show that by presenting an automatically sampled set of creative and diverse example ideas from the idea map, we can improve the diversity and creativity of ideas generated by a participants compared to presenting a set of randomly selected examples. A subsequent study shed light on the best timing for delivery of inspirational examples. The system we are building embodies these findings.
Exploring Individual Differencs in How People Use Adaptive User Interfaces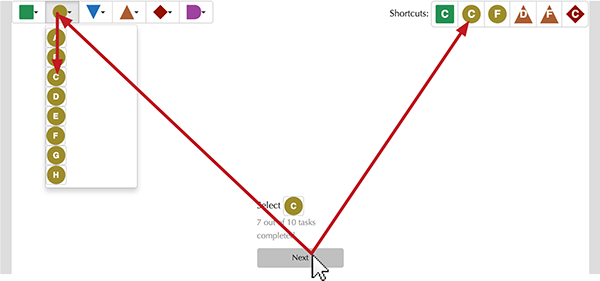 Past work, including ours, has shown that well-designed adaptive user interfaces can substantially improve people's performance and that people prefer those interfaces to the standard one-size-fits-all designs. But do all people benefit from adaptive user interfaces equally, or are some systematic differences causing some people to reap greater benefit than others. Our first study, which utilized the results from the Multitasking Test on Lab in the Wild has shown that people with high need for cognition utilize the adaptive feature fo adaptive user interfaces much more than those with low need for cognition. Also, introverts utilize the adaptive interface more than extroverts.
Computer Support of Teamwork in Complex Healthcare
Children with complex health conditions require care from a large, diverse team of caregivers that includes multiple types of medical professionals, parents and community support organizations. Coordination of their outpatient care, essential for good outcomes, presents major challenges. Our formative study revealed that the nature of teamwork in complex care poses challenges to team coordination that extend beyond those identified in prior work and that can be handled by existing coordination systems. We are building on a computational theory of teamwork to create entirely new tools to support complex, loosely-coupled teamwork.
TELLab: Experimentation @ Scale to Support Experiential Learning in Social Sciences and Design
Well-conducted lecture demonstrations of natural phenomena improve students' engagement, learning and retention of knowledge. Similarly, laboratory modules that allow for genuine exploration and discovery of relevant concepts can improve learning outcomes. These pedagogical techniques are used frequently in natural sciences and engineering to teach students about phenomena in the physical world. But how might we conduct a lecture demonstration to demonstrate impact of extraneous cognitive load on performance? How might we design a lab, in which students explore how adding decorations to visualizations impacts the comprehension and memorability of visualizations? We are developing tools, content and procedures to bring experiential learning techniques to social science and design-related courses that teach concepts related to human perception, cognition and behavior. Specifically, we are working to develop software technologies to enable rapid, large-scale and ethical online human-subjects experimentation in undergraduate design-related courses. See the project web site for more.
Lab in the Wild
Most of what we know about human-computer interaction today is based on studies conducted with Western participants, usually with American undergrads. This is despite many findings that our cultural background affects our perception and preferences. Neuroscience research has even shown that cultural exposure leads to differences in neural activity -- a finding that might affect how we interact with computers. If people around the world perceive, process, and interact with information differently, then what should their user interfaces look like in order to be most intuitive for them to use?
With Lab in the Wild we are trying to shed light on this question. Our goal is to improve the user experience and performance for computer users around the world. But Lab in the Wild doesn't just help us answer our questions. It also provides participants with personalized feedback, which lets them compare themselves and their performance to people of other countries. Try it out :)
DERBI: Communicating Individual Biomonitoring and Personal Exposure Results to Study Participants
Epidemiologic studies and public health biomonitoring rely on chemical exposure measurements in blood, urine, and other tissues, and in personal environments, such as homes. For many chemicals, the health implications of individual results are uncertain, and the sources and strategies to reduce exposure may not be known. Yet, a growing number of researchers consider it their ethical obligation to report the results back to their participants. In a project led by the Silent Spring Institute, we are building scalable online tools to help researchers communicate personalized results to study participants in a manner that appropriately conveys what is and what is not known about the sources and effects of different environmental chemicals.